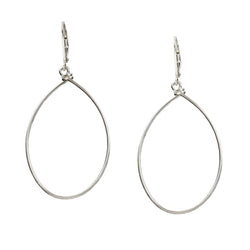 One of our very first designs, the Sarah OG Hoops stands the test of time. Lightweight, flattering and extremely versatile. Who doesn't want an earring that works hard and plays hard? (also likes long walks on the beach and candle lit dinners!) size medium 1.75 " long by 1.125 " wide. Super lightweight with just the right amount of shiny hammered texture to give your everyday a little bling..
How to Measure Your Ring Size at Home --  We all love beautiful, shiny rings.  But what happens when you're shopping online and don't know your size??  Have no fear, at-home measuring is here!  Figure out your size and get to work on that stack, baby!  This is all you need:1) A piece of paper  2) Scissors  3) A tape measure or ruler  4) A pen.  
This is all you need to do:1) Cut a long, thin strip of paper or string  2) Wrap the end of the paper around the base of your finger  3) Mark where the ends meet  4) Flatten the paper and measure in inches from the end to the mark, compare to the size chart here.