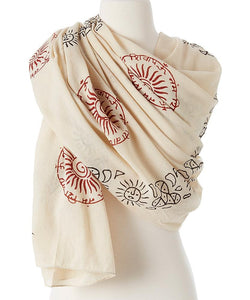 OMSutra Surya Prayer Shawl
This prayer shawl is made of 100% pure cotton lightweight fabric. It is Coloured with eco-friendly natural dyes and designed with hand-block prints on a very soft and breathable cotton fabric which makes it easy to wear easily. Wood block-printing is an ancient art still practiced in some parts of India. A sun symbol with sun-rays and Om Namah Shivaya Mantra adds spiritual power to it, and you get the comfort feeling when you wrap yourself in this scarf. You will love the natural Ecru color and it is an addition to your fashion scarves.
The shawl measures 88 inches x 48 inches approx.
Hand-wash separately in cold water.